Booking a Reliable Car Hire at Heathrow Airport is Now Easy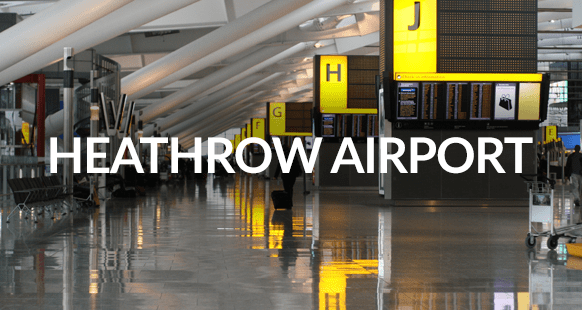 London Heathrow Airport is one of VroomVroomVroom's most popular locations for hire cars in the United Kingdom, and the fact that we can offer such great rates to our customers simply adds to the top car rental experience.
We compare deals from UK's leading car hire companies including Alamo, Avis, Budget, Enterprise, Europcar, Hertz, National, and Sixt. We also offer rental cars from Green Motion, which are based off-airport. When you decide to hire a car in Heathrow Airport, let VroomVroomVroom compare rental car deals for you and save you some groundwork.
Why hire a car at Heathrow Airport at VroomVroomVroom
Great rates: By renting a car through VroomVroomVroom, you are assured of getting the best rates. Check out our Price Promise for more details.
Wide selection of vehicles: Apart from rental cars, you can also compare campervan rentals in Heathrow Airport at VroomVroomVroom.
Excellent service: If you need assistance in finding or booking a cheap car hire, feel free to contact us via phone, email, or live chat. We have helped more than a million people find the right vehicle for their trip.
Things to consider when hiring a car at the airport
Always include your flight number when you reserve your car hire in Heathrow Airport, this will allow your chosen supplier to track delays with your flight and be sure to hold the car for you
Book ASAP! The longer you wait, the more expensive the rental will become. The early bird catches the worm in the car hire industry. You will also have more selection in vehicles thus making it easier for you to find a hire car that will suit your budget.
Be sure to bring along 2 forms of identification, such as a full valid drivers license, passport, utility bill, credit card statement, etc. Since DVLA has implemented a paperless driving license, read our article to guide you when booking a hire car.
Driving tips at Heathrow Airport
When exiting Heathrow Airport with your rental car, keep in mind that Heathrow is predominantly on the M4, inside the M25 ring motorway. Getting onto the M4 with your hire car from Heathrow Airport allows you to either go into London by going east or going West out to the M25 or further out to Slough, Maidenhead, Reading or even Bristol.
Heathrow Airport is considered the main airport for the London vicinity; however, it is important to note that Heathrow is quite a distance away from London (15-30 minutes depending on where you are going in London and London traffic patterns). Before you jump in your hire car in Heathrow Airport, it is advisable to check the traffic situation so you can plan the best route.
If it is your first time to drive in London, it is important to know the basic traffic rules and regulations which includes the speed limit and congestion charging. Read our Guide on Driving in the UK for more information.
Useful details on hiring a car at Heathrow Airport
When you arrive at the airport and are heading to pick up the hire car that you booked through VromVroomVroom, the following details will be of use to you:
Avis and Budget have car hire desks conveniently located in each of the airport's five terminals. Once you've completed your paperwork, a courtesy shuttle will take you to the main car hire centre located just 5 minutes away. Both are open 24 hours.
Enterprise has their desk within the terminals for picking up your car hire. They are also open Monday to Sunday 05:00 to 23:59.
Alamo and Europcar are based just north of Terminal 3. They are open 24 hours.
Hertz has a dedicated Gold office available Monday to Sunday 06:00-22:00, normal office hours are 24 hours. Outside of the Gold hours, customers need to go to the main desk. All customers with confirmed bookings, use the Car Rental Courtesy Bus.
Sixt has desks within the terminals, although if you arrive in terminal 5 customers will need to use the freephone at the Car rental carousel in the center of the arrivals hall. Alternatively, you can call for the shuttle on 0044800614412 or 00442088901283 and proceed directly to the relevant bus stop for collection: Terminal 1 - 5 Terminal 3 - 22 Terminal 4 - 23 Terminal 5 - 28. Opening hours are Monday to Sunday 06:00 - 23:00.
Green Motion Heathrow is based within the Holiday Inn M4J4 on Sipson Road. Once you have arrived at the terminal the best way to proceed to the Hotel is via the Airport Hotel Hoppa Bus Service. Please note you will have pay for the Hoppa Bus Service. Opening hours are Monday to Sunday 06:00 - 22:00. Times outside these will attract and 'out of hours fee' upon collection.

Click here for a map of the car hire locations at Heathrow Airport
Heathrow Airport Information
When you pick up your car rental at Heathrow Airport after booking it through VroomVroomVroom, you will probably find the sheer size and activity of Heathrow Airport a tad daunting, especially if you have never travelled there before. You have to understand the fact that Heathrow is an enormous Airport with four major Terminals.

Heathrow terminals 1 and 2 are predominantly for domestic and European travel, terminal 3 handles most of the International travel whereas terminal 4 is for Cargo and some International Travel. There is also Terminal 5, which is located between the northern and southern runways at the west end of Heathrow's site.
All Heathrow's terminals have desks for most of the major car hire brands, however the depots where you pick up your hire car are usually only a bus ride away from the terminal. Before setting off for your journey, it is always wise to check with Teletext to make sure which terminal you will be flying in and out of and making sure that your flight is on time.
Heathrow ​is more than 'just an airport'. With a variety of shops, restaurants, lounges, prayer rooms, business options and so much more, it's more like a halfway holiday resort.
VroomVroomVroom
United Kingdom
,
England
,
United Kingdom