Finding a Cheap Car Hire in Llandudno is Easy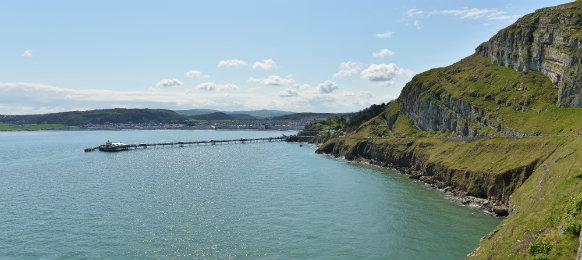 Are you planning to go on a road trip in Llandudno? VroomVroomVroom can help you find the perfect car hire for your next trip. We compare deals from the country's leading car rental companies including Avis, Enterprise and Sixt. Find a vehicle that will best suit your budget and needs.
Llandudno is located in Conwy County Borough, Wales. The main function of the town is as a seaside resort, attracting many tourists every year for coastal vacations. Llandudno has a population of over 20,000 people and it is part of larger community, which also includes Penrhyn Bay and Penrhynside. Llandudno is the largest and most famous resort in the country and thus, is called the Queen of the Welsh Resorts.
Why book a car rental in Llandudo at VroomVroomVroom
Great rates: Our price promise can help you get a great deal.
Wide selection of cars: There are more choices in vehicles when you book with us which makes it easier to find the perfect hire car.
Trusted since 2001: We are the experts in rental cars and have been helping people book a car for years. Enjoy outstanding service from our customer care team now.
Best time to visit Llandudno
Spring season is the most popular time to visit Llandudno because the mild climate allows you to enjoy many outdoor activities. However, expect a huge crowd of tourists during this time of the year. If you prefer less people and yet still experience a great weather with some rainfall, travel during summer which is between months of June and September.
Driving tips in Llandudno
Conwy County is small, so you don't have to go far to find great things to do and places to go. There's entertainment for both children and adults. Like the Welsh Mountain Zoo near Colwyn Bay or the new pottery painting studio in Llandudno, so it's perfect for family fun days out. And many romantic spots are ideal for twos. Visit the beautiful gardens at Bodnant, or the lonely wilds of Pensychnant Nature Reserve, where you can be completely alone.
Have Fun, Stay, and Dine in Llandundo
LLandudno is said to be the largest seaside resort in North Wales. It is situated between the Great Orme and Little Orme and surrounded by the Irish Sea and River Conwy. It has been the favourite holiday destination of Queen Victoria and a hot tourist spot during the Victorian era. Llandudno is flat which makes it a great place to go drive around in your car hire. It can also be easily accessed with a car rental coming from England. If you're planning to visit Llandudno, then check out our guide as to where you can go, stay, and dine in.
WHERE TO GO
Are you looking for a great place to bring your small children? Make sure to visit Bodafon Farm where you can have an awesome animal encounters and enjoy delicious meals. You can enter for free and it is open all year round. You can find different kinds of farm animals here – from cows and donkeys to pigs and ducks. There are also rare animals in the farm such as llamas, fallow deer, and the highland cattle. You can even let your kids experience feeding the adorable animals. After getting up close with the farm animals, you can have a delightful snack and drinks at the cartwheel café, bar, and BBQ or have your food served on their sunset terrace overlooking the picturesque LLandudno bay.
---
WHERE TO SHOP
Address: 97-99 Mostyn Street, Llandudno, Gwynedd, LL30 2PD
With its brass exterior shop front, ornate antique railings, and grand arcade entrance, Clares immediately radiates the warmth that comes with trading in Llandudno's busy town centre for over 85 years. Browse through the ground floor which combines such brands as Kipling, Regatta, Gabicci and Crew in its menswear, outerwear and fashion accessories department. One floor down and you'll find a cookshop that will rival any London department store selling such items as La Creuset, Stellar, Joseph Joseph and Denby. Then take its quaint caged lift upwards to its women's fashion department were you'll find Masai, CC, Eastex and Dash on offer along with a fully stocked lingerie department. One floor up and Clare's coffee shop is famous for providing a wonderful menu of delightful dishes suitable for both light-bites and more substantial meals all at economical prices.
---
WHERE TO STAY
Address: 10 Deganwy Avenue Llandudno Gwynedd LL30 2YB
The 4-star guest house is the perfect base for exploring North Wales because of its superb location right in the heart of the seaside resort. It is just walking distance to the shops, amenities, and attractions in Llandudno. You can just leave your car hire in their parking space and start exploring North Wales. They only accommodate adults and a limited number of guests so make sure to book a room ahead of time. Enjoy Bed and Breakfast accommodation during your stay with a touch of the Victorian era as seen on its designs and interiors. Their suites feature a separate workspace for business travellers.
---
WHERE TO DINE
Address: 153 Mostyn Street Llandudno Gwynedd LL30 2PE
Are you craving for Greek, Turkish, Spanish, French, and Italian cuisine? The make sure to try the sumptuous food at The New Mediterranean Restaurants, which will bring back that holiday feeling once you enter the dining area. You will also feel that you're in another country once you sample their specialties. This restaurant is easy to find because it is situated right in the heart of Llandudno. The owner and chef of the restaurant is Turkish and has been preparing authentic dishes for more than 45 years. Enjoy freshly-cooked dishes every day at the New Mediterranean Restaurant.
Address: Mostyn Street, Llandudno Gwynedd LL30 2PE
If you're in the mood for some Mediterranean tapa dishes, then visit The Gresham from 12 noon until past midnight. They specialize in a variety of home-cooked tapas, which are small bites of food whether it is meat, seafood, or vegetables. Their resident chefs have worked with some of the finest restaurants in Spain, Greece, and Italy. They only use the highest quality ingredients when preparing their tapas. For groups of 8 to 11, make sure to pre-order from The Gresham Restaurant menu while groups of 12 should pre-order from their Banquet menu.
---
Other popular attractions in Llandudno
Llandudno Bay and the North Shore is a distinctive area of Llandudno, consisting of a long Victorian coastal promenade and streets filled with hotels and restaurants. It is also the place where visitors can attend plays at the North Wales Theater or business meetings at the Wales Conference Center. The Llandudno Yacht Club makes for a venue where people can enjoy seaside activities and a lot of fun boating experiences.This is one of the preferred places for vacations and holidays for a great number of people from the country and from abroad.
Happy Valley was created so that people living and visiting in Llandudno can enjoy a wide variation of outdoor activities, such as mini-golf, open air theater, garden walks and picnics. It is the perfect place to hold family celebrations and weekend activities. The vast land offers many facilities and it is opened to everyone looking for fun times.
The Victorian Extravaganza is a Llandudno carnival that celebrates the Victorian roots of the resort. It is a three-day holiday in which numerous Victorian-themed activities happen and locals dress up appropriately for the era that it is represented. The feel of past times is recreated with costumes, music and crafts, all to the delight of the tourists who attend the carnival.
Venue Cymru, formerly known as the North Wales Theater, Arena and Conference Center, is located on the Penrhyn Crescent promenade, in Llandudno and offers great live performances of all genres. The productions feature live concerts, opera, ballet, theater, circus and others. It is the perfect venue for families to enjoy spectacular shows, no matter the age or the passions they have.
VroomVroomVroom
United Kingdom
,
Wales
,
United Kingdom